Red Cloud Ranch
Kennels and Runs
Boarding information
On the left is our small dog front yard playground. There's a bench for humans (and pooches), a shade umbrella and a nice view of the fountains and bamboo. Measuring 20x20, it is home for 7 of our smallest buddies!
On the right is a view of what we call the "small dogs side" at B&B's kennels. These were here when we came, so no choice in the design, but there are l6 chain link runs, side by side - l4 are 3x8 plus an interior 3x3' sleeping area; 2 runs are double size, 6x8. We've added the greenery, herbs and other good smelling and visually pleasant surroundings for all to enjoy.
This trail leads a visitor to the kennel area - look closely for gate with big sunflowers on it - leads to the "small side". On the right is the view heading from the big playground and office towards the front yard - tranquil feeling, huh?!
This is a partial view of our "Big Side" - l5 runs measuring 4xl5' each. Two big hounds share each run and this view gives a bird's eye view of Olive Oyl and Elvis and one of their favorite flowers.
Hey, the dogs appreciate a certain kind of art....and so do we! On the right is... well, an integral part of B&B!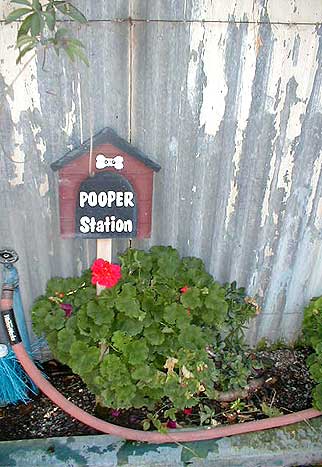 Want to see more?
Click here to see all of our adoptable dogs!