Memorials


A well lived life doesn't end
any more than music ends
It echoes through time
with whispers of beauty and grace...




"Rainbow Bridge"



Just this side of heaven is a place called Rainbow Bridge.

When an animal dies that has been especially close to someone here, that pet goes to Rainbow Bridge. There are meadows and hills for all of our special friends so they can run and play together.
There is plenty of food, water and sunshine, and our friends are warm and comfortable.

All the animals who had been ill and old are restored to health and vigor. Those who were hurt or maimed are made whole and strong again, just as we remember them in our dreams of days and times gone by.
The animals are happy and content, except for one small thing; they each miss someone very special to them, who had to be left behind.

They all run and play together, but the day comes when one suddenly stops and looks into the distance. His bright eyes are intent. His eager body quivers. Suddenly he begins to run from the group, flying over the green grass, his legs carrying him faster and faster.

You have been spotted, and when you and your special friend finally meet, you cling together in joyous reunion, never to be parted again. The happy kisses rain upon your face; your hands again caress the beloved head, and you look once more into the trusting eyes of your pet, so long gone from your life but never absent from your heart.

Then you cross Rainbow Bridge together....




-Author unknown



Monday Evening Candle Lighting Ceremony



If you have not already done so, we invite you to participate in the Monday Evening Candle Lighting Ceremony. Every Monday night around the world, we light candles in memory of our animal companions. This simple lighting of candles provides a healing ritual. And although each of us lights our candles privately, in our own way, somehow the common love for animals that we share joins us all in love and spirit. We wish you a healing heart.

In the U.S. the candle lighting times are l0 PM Eastern - 9 PM Central - 8 PM Mountain - 7 PM Pacific - 6 PM Alaska - 5 PM Hawaii.

You may obtain more information on the Monday Evening Candle Lighting Ceremony at

www.petloss.com



| | |
| --- | --- |
| | Auntie Em was just the sweetest gal, friendly and outgoing and full of energy. She came to us from a shelter and was a much-loved favorite among staff and volunteers. We are proud to have known her. |
| | Molly came to us 10 years ago. She was our 'Laundry Room Queen", she loved that cozy place with the dryers providing warmth all day. As she mellowed in her later years, she had lots of friends and will be missed dearly. |
| | Roxanne was another one of those forever-young petite gals: Always happy, always smiling, and always looking for a heart to win over. She got along with all dogs and enjoyed the weekend activities with all the volunteers and people visiting. |
| | Gladys was a gentle soul, a good friend and a true Beagle with quite a voice that she liked to make heard. A cozy doggy bed in the sun and Gladys was in heaven – she wouldn't move for anything… except food, of course. |
| | Moses was with us for 2 years, and he was old as Methuselah. With the ligaments in his legs worn out from lots of walking, this old man ended up walking on the pegs of his feet. But this did not slow him down much, he still had places to go, things to see and people to meet. What a great dog he was. |
| | Webb/Ducky came to us last year as part of the 9-11 memorial rescue run organized by some of our friends. He needed a little time to warm up to all of us and find his place in our menagerie, but once he did, his gentle personality came through and he won the hearts of everybody he met. |
| | Storm came to us at about 10 years of age, and the poor thing had been pregnant. She went through quite a lot, but never lost her sweet demeanor and kind personality. A true Beagle, she could be heard singing quite a bit away. |
Two of our great success stories over the years, Del and Tinkerbelle, also passed recently.
Del was adopted from us 14 years ago! She was part of a very shy litter and found her way into the most wonderful and loving home with the Hamilton family she could have ever imagined. With lots of trips to the mountains and deserts and riding shotgun in the truck, Del lived her life to the fullest.
Tinkerbelle, a tiny Doxie with a giant personality was dropped off at B&B 10 years ago in deplorable conditions, turned her life around when she found herself in the home of Kathy Fuller. She became a star in operas, movies and TV shows, and mastered a career as therapy dog. What a fantastic life she had!
Fudge
Sadly Little Fudge passed away - went over Rainbow Bridge - where he is now healthy and pain free. We are glad he was with us a little while.




Boomer

We were so hopeful Boomer would get her very favorite home - and that turned out to be us! She got lotsa freedom at Red Cloud Ranch where she made friends with everyone. While she was one of the smallest pooches at RCR, she had about the biggest heart. We loved her lots and miss her the same - and know we'll see here again someday. Rest in Peace, dear little one...



Miss Lillian
She was with us only a couple of weeks and we're so grateful to the rescue folks who saw her specialness and conveyed that to us - so that we were privileged to have Miss Lillian spend her last days with us. She truly passed in her sleep and looked so peaceful that, even after 15 years, we did not realize that she was gone.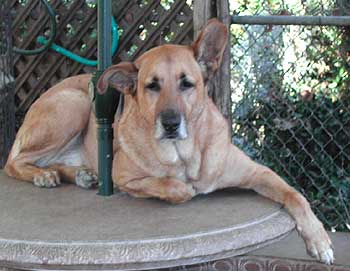 Pico


Pico came to us from near Whittier Narrows. He succeeded Winston as kennel manager, along with her partner Andi. He worked for several years and actually got to retire to Red Cloud, along with Andi. There'll never be another Pico - that's for sure.


Bentley
Bentley was one of Betsy Jones-Moreland's dogs. He moved over to B&B and enjoyed his daily walks - always with a stuffed animal in his mouth. Thyroid medicine kept his coat fluffy; he was a favorite at the grooming school. We sure miss seeing his "duck" or "octapus" filled mug walking across the street.



Jodie
Sweet, quiet little unassuming cutie whose heart gave out on her way too young. We're happy that she got to spend her time as a house dog with us, much loved as she so deserved.



Stella
Maggie Mo
Solo
Wonderful big guy who was so easy going - we never imagined he would live his life out at B&B. Many health challenges shortened his time with us - forever in our memories and hearts.....



Champ
From the first day he arrived, he was really my dog. Slept on the floor by my bed that first night and pretty much never left - he did graduate himself to the bed and everytime I came into my bedroom, he was stretched full length right below the pillows - took a little doing, but he finally allowed me a bit of space. He became known as my "husband" and followed me everywhere he could. Champ loved to walk across the street to B&B and just check things out. He was one of the very few dogs I felt comfortable having off leash - if he lost interest, got tired, didn't want to explore anymore, he found someone who would let him back into his house or yard. I knew he was going downhill - he died in his sleep - same exact place Bonzai did... another B&B angel.



Anita
Came to us from Questover where she had many friends for a long time. She was lucky enough to snag some great sponsors and "cheerleaders" in her last days with us. We gave her and her roomies Murphy and Tangerine more and more freedom. We now imagine them running fast and painlessly as young pooches again...



Humphrey
Dear B&B, it is with great sorrow that I write to inform you that "our boy" Humphrey passed away on June 26, 2008. Humphrey was a wonderful dog. He brought us and our other beagle Lucy so much joy. We were so lucky that he came to live with us. He lives on in our memories now and we will never forget him. We are so grateful that you introduced us to Humphrey that, we are now hoping that you can bring another wonderful dog into our lives! Thank you, the O'Neil Family



Joey
May 1998 - August 2008
We adopted Joey from Beagles and Buddies in May 1998 and our lives were forever changed. He brought so much love and joy to our home. Joey was an adorable, lovable dog with a very special spirit and had a big heart. He would constantly stand by the French Doors waiting for Mary to come home. Although he was much loved by both Barry and Mary, he was truly a "Momma's boy." He will be sorely missed. Thank you to Beagles and Buddies for the wonderful work that you do for the animals and the people who love them.



Doilie
We're so glad we rescued her from the shelter. At age 16 with big tumors on her belly, we feared her time with us might be more of quality than quantity - so we loaded her up with love, attention, warm beds and yummy meals. She tottered around, mostly blind and deaf, reverred by dogs and humans alike - all 15 pounds of her. Sure do wish it could have been for so much longer!




Budford Alexander Zeller Winningham
(Lovingly known as Buddy)




Born 1990 - Died 11/24/07


Twelve years ago a little guy wandered into our lives when we went to B&B in El Monte to find a dog. There were hundreds of dogs barking and playing but this little guy was standing just inside the gate all by himself just looking and listening. We walked over to the gate and he came toward us, thus began an amazing and wonderful journey with Budford Alexander Zeller Winningham, whom everyone lovingly called Buddy!

He wasn't a dog that was obnoxious or a jumper but he did have an internal clock that went off every day at 5:15 a.m. and 5:00 p.m. and then he definitely wanted his presence known because it was time for his breakfast and dinner. His whole life centered around food and sleep which we should have known shortly after we got him and found him with his body buried to his stomach in the dog food. He'd start barking and "dancing" which he did by prancing around like a show horse and if that didn't get your attention he'd dance, bark and start pushing his dog food bowl around the floor because he knew that would also make a sound! While we were living the condo, Scott and Katie found a black and white kitten that we named Sox! Soxy use to love to hide around a corner when she'd hear buddy coming and then ambush him by jumping out at him to which he would bark, she would run and he'd lay down. Soxy loved to chase balls and Buddy would lay their and watch her chasing the ball but really couldn't be bothered to get up and chase the ball with her. He was saving all his energy for breakfast or dinner! Even towards the end of his life when his hips and back legs didn't work right, he manage to find his food and stand just long enough to eat! Then he'd come find one of us to carry him outside to go pee!


Buddy's other favorite thing to do was sleep which he did very well! He conveyed this to the world by snoring and not quietly because although he had a quiet disposition when it came to sleeping and food he wanted to be heard! He also had worn down his bottom teeth while he was in the pound so when he slept his very long tongue stuck out about halfway and when he'd wake up he'd walk around like that for hours!

He lived his life like we all should live in that he didn't speak often but when he did everyone listened! Buddy was rescued by Connie kramer from the dog pound after he had been tied to a fence in a dog park so maybe that's why he chose to be the laid back dog that won our hearts by just being a "Good Boy"!

Our budford is with Rosie, Soxy and all our other animals probably sleeping and snoring and curious as to whether breakfast and dinner are at the same time as they were on earth?




Rosita Conchita Consuelo




Born 1996 - Died 6/5/2006


Her energy! From the moment we got her from the beagle rescue she was in charge! She loved to run and her getting out of our backyard in Fullerton stories are infamous! She could run 6 to 8 blocks without stopping and then look back at you with the expression of "why cant you guys keep up?". She was a licker and boy did she love to lick... if she found an open neck, hand, leg she would give you kisses. The more she kissed the faster her tail went to the point you'd swear it was going to fly off her body and I always wondered how she could kiss that much and still have a tongue that wasn't exhausted! Finally rosie let the world know that she was around by her bark. She barked like a coon hound and a beagle put together! She was also the most persistent dog when it came to mice, rodents etc. She had no problem cracking pots to get a mouse behind a pot that was twice her size!

She loved her daddy Steve like no other human being in her life. When he got home her place was on his chest while he laid on the couch. She loved food and loved to bark at the mail man who to this day thinks she's a Rottweller! As tough as she was the minute the thunder started she would stand in the middle of the bed at our heads and shake to the point you were certain that the thunder was causing an earthquake. She loved to sleep and her 2 favorite spots were on Katie's bed in the front bedroom so she could keep an eye out on the neighborhood and under the covers at her daddy Steve's feet. Finally she loved to eat and I've never had a dog that loved the same foods she did. Her favorites were bananas, apples, grapes(she'd push them around the floor with her nose and Zoey and Buddy would look at her like she had a screw loose!) To say that Rosie was bigger than life and lived life to the fullest is an understatement. I really realized that at 2 a.m. this morning when Zoey was in the back yard barking at something or her sister was channeling through her that there is now a big hole in our house and our lives because she's gone and one that I'm not sure can really be filled the same way again! I do know one thing for certain I'm a better human being for knowing her and learning from her how to love and be loved unconditionally!




Dasher

Dasher passed away after 15 years of life. She had been with us for the last six years. She grappled with kidney failure for the last two years, but was a real trooper who carried on despite her illness. Her tenacity earned her the moniker of "The Dog Who Won't Die." Sadly, over the last few weeks, she became weaker and sicker as she finally succumbed to her condition and her age. We made the decision to have her euthanized this morning. She passed away peacefully in our arms.

We'll remember her as the dog who happily joined us on years of road trips and climbing adventures well into her old age. She spent many fine evenings around the campfires of Joshua Tree and Lone Pine. Despite her small size and advancing age, she always did her best to keep up with the "big dogs." Dasher, you will be missed...

I'll never forget her write-up on the B&B website - "She's a lively chipper sort who knows how to make lemonade out of lemons." She lost her liveliness a few weeks ago, but she kept making lemonade right up until the last moment.

-Bruce & Michele



Winslow aka Merlot
Winslow recently passed away. He had been sick for some months prior. He was his mama's baby and she misses him like crazy. Please say a prayer for her little "Winnie Bear".



Jez
We're so glad we had her as long as we did - she's a young, healthy gal again, happily running with her pals.



Devotion
Betsy Jones-Moreland rescued both Love and Devotion many years ago. They were inseparable. Love passed before Betsy and we didn't know her except to hear the terrific story about their rescue. Devotion enjoyed her trips to the beauty parlor and many Questover friends. he peacefully went to sleep one night... rest well, dear little one.



Blue
I remember when we rescued her, very pregnant and irritable, and watched the vet perform the abortion and spay on her. She enjoyed being a house dog her entire time at B&B - we felt anyone who was homeless, pregnant (with 13 pups!) and made her way to B&B deserved that! Her kidneys gave out on her at long last and she joined her many friends...



Brillo
Long time resident of Questover, she passed quietly after a short illness. We're glad that she got to go for lotsa walks and visits to the grooming school in her last couple of years. RIP dear one...



Jasper
He almost got adopted from us, and would have, if he cudda fit through the doggie door; but he paved the way for four old beagles to go out instead... and this angel became one of our "lifers". Godspeed, Jasper - you're a young boy running and playing with so many of our friends now...



Rudy
He had some adoring fans who looked at his photo daily and fantasized about him living with them. We like to think he somehow knew that and basked in that love. We got him when he was already old and his immune system failed him... but he's healthy now over Rainbow Bridge - no aches, pains, sores or itching!



Snoopy Gal of LB
She was peppy right up till the end; maintained her girlish figure despite having Cushing's Disease. We had so much fun with this upbeat, in your face gal! She was ever present, sitting for a treat - and she loved to eat! There'll never be another one quite like this Snoopy! Say hello to all our pals you'll now be hanging with over Rainbow Bridge. Godspeed Snoopy Gal....or should we say, Dogspeed....



Topher
He sure enjoyed relaxing - really built more for comfort than speed, this one. And he enjoyed watching the action rather than being a part of it. He left us way too soon; we're glad for the time we did have with him and very glad that he pretty much called his own shots here at B&B-land. E-Z going so long as things were going his way....yep!



Shiloh
Shiloh was with us just a year - we got him through paralysis with acupuncture and TLC and he enjoyed his freedom and place of senior respect at Red Cloud Ranch. Sadly, his kidneys failed him and his quality of life was just not there, so we helped him go over Rainbow Bridge to join so many of our dear ones....



Wrinkles
Wrinkles will be forever known as one of the "laundry room dogs" Nice and warm, spacious and everybody gets to see their favorite person Lily, who have fed them for the past 14 years... well, Wrinkles has only been with us for about 4 years. She arrived from an awful situation with much hair loss from chronic demodectic mange. She loved her little core group - Molly, Hobbitt, and Pogo... and over the years maybe one other from time to time. We're so glad her last few years were safe, secure and loved for her.



Old Mike
Though our time together was short, it was lovely. He had friends and was much loved.



Obie
What a rascal! We had so much fun with ObieJuan - he pretty much got to do whatever he wanted - that way, we were alpha, cuz we allowed it. Do what we say, not what we do.... unless it works for ya! RIP Obie - you're a slim guy running with lotsa friends now...



Norman
His heart gave out and he passed in his sleep last week... we sure do miss him! Of all the dogs at B&B, he consistently was the happiest to see me whenever I was gone for a few days! Pretty great to have somebody feel that way about you... I hope to see him again one day...



Gunny Sam
Best Dog in the world, according to his Mom - he sure raised the bar for the Jason family beagles. Wonderful boy - much missed and forever loved...



Eppie Dunn
Survived by dad Robert and beagle brother Buck - much loved and missed.




In Loving Memory of Ginger

We adopted a very sweet beagle, Ginger, from Beagles and Buddies. Unfortunately, she died last Sunday, June 25, from old age. We miss her so much and we enjoyed every moment we had with her. Thank you for introducing us to our sweet Gingy girl. She meant more to us than we ever imagined.

Many thanks, Shannon



Soozie
She spent her last few months in the house at Red Cloud Ranch - quiet unassuming little couch potato. We were honored to have her with us.




Alex
We're glad she enjoyed her last few weeks in a foster home.



Go To
Sweet Go To's heart just finally wore out - We had her for over a year; she recovered so well from the removal of many mammary tumors and was well loved at B&Bville. It was getting very difficult for her to breath. We sensed something - her behavior had changed slightly - and Sunday we brought her out front for everyone to hug and love on her all day. She met new friends, hung with old ones and generally soaked up lotsa attention, affection, adoration... our vet said if she was her dog, she would put her down, so... we know many old pals were at Rainbow Bridge to welcome her.



Society
She's spending New Year's in Doggie Heaven - where she's a chubby, healthy girl who can eat anything and everything she wants!



Beardie
So glad he came to join our family very late in his life - his health rallied for awhile and he enjoyed being an elder statesman at B&B-land for well over a year.....



Tristan
We sure enjoyed the time we had together...




In Loving Memory - Fred Brown

This was taken one year ago on Halloween. It occurred to me when looking at this photo that when we first got Fred, he would not let us touch his rear end without giving us a growl. And notice in the photo, he's happily letting us touch him wherever AND let us dress him up. What a wonderful boy he was. All he needed was a little bit of love, and he ended up being such a lovely dovey! Who would have thought!?! Thanks for all! -Linda



Zorro
Zorro lived a quiet unassuming life with us. He asked for so little and gave so much.




In Loving Memory - Jack

It is with heavy heart that I write this message. At approximately 6 A.M. on 6-1-05 my beloved "Jack" joined his brother "Boomer" (7-12-04). I was with "Jack" until his passing. I like to think that just moments before he passed his brother (Boomer) came to him to say it's time for us to be together again. I believe this because "Jack" began wagging his tail and then it was over. I hope I was worthy of his (their) love and gave them the same amount of love and joy they gave me. Thanks to "Beagles and Buddies" I was able to enjoy the company and love of "Jack and Boomer". They were and always will be a big part of my life. Thank you for all you all do and thank you for giving me the chance to be a made a better person by knowing and loving "Jack and Boomer". - Eric




Ottis
He really stole our hearts - what a terrific guy. His spirits were always up; he enjoyed his walks, and he loved life. It was truly our privilege to know him - and the lucky few who really spent a lot of time with him, were gifted with his tremendous gift of accepting things just as they are...and just as they are not. We know he's a young pup now, romping with friends and that we'll have a good reunion one day. Until we meet again, rest in peace, Ottis.




IN MEMORIUM - COPPER

Dear Beagles and Buddies-

In June, 1998, my wife and I adopted Candy and Copper. They became buddies at our house with Katie, another rescue beagle we received from a family in Simi Valley. In 1999 we all moved to a new city where the trio became well known at the local Animal Hospital where we occasionally board them and where they receive their medical attention.

As my wife said, "Copper's like a puppy in a big beagle suit" - but last night we lost Copper to a hemorrhaging tumor on the spleen. It hit so fast, we still can't believe it, and our hearts will never be the same. Sunday morning he was fine - totally normal - but by evening he was showing signs of distress and pain, so we took him to the Urgent Care facility. After x-rays, the vet gave us the prognosis. What had started as a precautionary trip turned into the last time we would ever see our beloved companion. Copper was put to sleep about 1:30 AM. He was the best, the very best - a gentle giant - and words can't express what a void it's left in our home, and our hearts.

I'll always remember the day he found us at Beagle and Buddies; he trotted up to me like he was introducing himself. When we drove him and Candy home we went up Rosemead with the sun roof open and Copper had his front paws on the back of the seat, head up to the roof line, sniffing the air like he was saying "I'm going home!"

So for the last 7 years, it's been large (Copper), medium (Candy), and small (Katie). Among the three, Copper was the alpha. We've had 7 beagles since 1978, but Copper was by far the most personable, affectionate, funniest - the only beagle we've known with a "sense of humor." He knew how to toss a blanket up over his head (always like to clean his feet under cover). He'd come charging up the stairs, jump on our bed, and go sliding into the pillows head first. He'd sort through his toy bucket to find just the right toy.

His loss really hurts, and I don't think there will be another like him. I sure hope I get to see him again someday.

In mourning,
Dave & Carol



Big Al
Big Al was such a gentle sweet guy - unassuming and a pleasure to spend time with. He had to have the glaucoma eye removed....and was blind in the other one. Still he got around, would meet and greet, and enjoyed his life. We're glad to have known him.



Henny Penny
Such a sweet one - her life was much shorter than we had wished for due to the cancer that we couldn't stop. Much loved and well remembered. Rest in peace, dear one. Now she's a young pup again feeling good, playing, running as she should....




A bittersweet story...



Dear Friends at Beagles and Buddies-

I want to share with you a bittersweet story which concerns one 'Rocco', a Jack Russell Terrier whom we adopted from you on Sunday, 06 February, 2002, almost three years ago.

My son Joshua, then 8 years old and the older of two sons, had wanted a beagle for a long time, at least a year. He finally began laying guilt trips on my wife and me for depriving him of his dream beagle. So I went online, input 'beagles' at google, and found you. We drove out to your facility. After looking at all of your dogs, my wife and I sat down at one of your picnic tables, while Josh and Jeremy (our younger son, 22 months younger) mingled amongst half a dozen or more dogs you had in the front area. Josh approached Mommy and me to inform us that he wanted to take home a particular doggie who had just licked his hand. I remember resisting a bit, thinking that we shouldn't buy at the first place we visit, but then Josh made his irresistable 'Please, Mommy' face, and he pointed out the little doggie in whom he had taken an interest.

After contributing to your facility and signing some papers, my wife, Josh, Jeremy and I drove off with 'Rocco', the new addition to our family.

Exactly a year and a half later, on Aug. 06, 2003, Joshua died, having tragically drowned in a jet-ski accident on Lake Castaic. Naturally, his loss is the most painful experience of my life. Rocco still lives at the house, and is a GREAT SOURCE OF COMFORT to Jeremy, who lost his only brother, his only sibling, and his best friend.

Rocco brought great joy and happiness and laughter to Joshua during those precious 18 months. I simply wanted to thank you folks for your great contribution to my son's all-too-brief life.

I am attaching a photo of Josh and Rocco, taken on Christmas Eve of 2002. That was also Josh's birthday, Dec. 24th. It was his last birthday.

With deep appreciation,

Gary R. Sparage



Holiday
He wasn't with us but a few weeks. Still, we're so glad to have rescued him from the shelter so he could spend his remaining time much loved, warm and cozy with doggie and human friends. We found out shortly after his arrival that he had a very bad liver and heart problems. He's a young frisky guy again now......



Lucy
She weighed exactly one pound at 8 weeks and from the moment I brought her home, she was bratty, demanding, and so full of personality I knew she could only be a "Lucy". My life would never be the same again! She was a healthy little beast whose tailed seldom stopped wagging. She was a treasure, and an absolute joy. My life is less full without her, but so much richer for having had in her my heart and my life for nearly 14 years. She was my best friend and dear companion. I know if she COULD have spoken, she would have had a limited range of conversation topics. Either "Do you want to play? How 'bout now? How 'bout now? How 'bout now?" or "I'm sorry, how does this relate to ME?" or "Hello! Biscuits needed over here!!" She was a forced to be reckoned with and left quite an impression on each and every visitor to our home. People seldom remembered me on our walks, but they always remembered Lucy.


Loved beyond measure
Unique, unspeakably S·P·O·I·L·E·D
Cute, cherished, character
Young at heart, to the very end




Maggie and Toby
Good friends Bob and Donna Rosencranse from Arizona added these sweeties to their family of two beagles. This makes four they've adopted from us! M&T really hit the big time!! Their time w/ Bob and Donna was wonderful, but far too short. Toby died a couple of weeks ago and Maggie was just lost without him. She died in her sleep May l7, 2004. They will be buried on the Rosencranse property in their little beagle cemetary.



Mack
The note below is from his wonderful foster home - they gave him such good care. He leaves his wonderful foster mom, dad, and children and canine sis Suzi. He really loved them all a lot.

"It is with deep regret that we write to you to say that Mack died today. We were with him until the end and although this is extremely sad we think that Mack is in a better place running and playing like he should be. Here is a picture of Mack just to remember how happy he used to be. Thanks for allowing us to share in his life and love him."



Dollie
She was not with us very long - we rescued her from a local shelter and don't know if she was a stray or her people turned her in because of her heart trouble. We fell in love immediately and she had some wonderful time in the sun at Red Cloud Ranch. She made new friends and we were privileged to be with her in her last days. In fact she actually waited until two of us came to tend to her one morning and died in our arms. Her last illness was a short one and she's now joined so many others and is a puppy again.


Rudy
Rudy was with us for well over a year and made B&B his home. He had complete freedom and later moved over to Red Cloud and became a "ranch hand", helping Olde Timer walk the grounds and just seeing that everything was as it should be. We're so glad to have known him. He became a tottering old guy and went to sleep one day... as they said in Grumpy Old Men, "lucky bastard", and we say it lovingly as well.



Baby
Forever a Baby - so glad you made it to B&B, got to run free and make friends. Forever in our hearts, with love from all. Say hello to our other wonderful pals.....



Skippy
He was a great big dog in a tiny body with a big heart also. Skippy enjoyed "top dogging" even the biggest coonhound and was always ready for a treat. We're so glad to have met him and will miss his eager smile and sweet face.



Kojak Candy Boy
He was only 6 years old and just a wonderful beagle boy. Sadly, the big lump we had removed from under his arm grew back very quickly and went to his spine. He spent his last days at Lauren's wonderful beagle haven, playing with Jones and chasing the cats. Now, he's a young beagle pup running without any pain and playing with many of our friends. Godspeed, Kojak Candy Boy.



Dayzee
Wonderful very senior lady who was with us almost a year - probably the best of her life. Though she had heart trouble and arthritis, she loved her life and was out every open house time meeting and greeting the crowds. Slept in a private room on her own leather recliner, Dayzee was adored by many at B&B and we miss her already.



Lynn
Very beloved girl who was with us about a year and then got the best home in the world where she split her time between Anza Borrego and Alaska. She just wasn't with any of us nearly long enough. We miss her alot and are so grateful for the time we had with her.



Huckleberry
Well, he got to The Last Resort in Malibu, but soon headed on to Hound Dawg Heaven where he joins Junior Walker and so many other pals. We were so glad he had so much love and was surrounded by great friends as his days here with us ended.



Bob / Rudy
I am happy to say that I had nearly one year with Bob (I renamed him Rudy) before he passed painlessly in my arms on February 7th. He was a strange guy but he was good to my old cats and never wanted to hurt a fly. I will miss him, he made me laugh every night with his antics, but now he has made way for another old beagle on the waiting list to my house. Sincerely, Lauren Ansley



Casper
Sweet Casper died peacefully while lying in the sun on December 30. His mom's grandkids brought him to us along with her washing machine after she died earlier this year. The washer conked out a few weeks ago; we're glad Casper outlived the machine!




KIRBY I, Sun King Sept. 1996 - March 2002 THE ROYAL COURT OF CHERUBIM
China: October 25, 1988 - November 30, 2002
Sweet, loving friend to us and Star. We will carry you in our hearts.


Sprocket the Rocket - much loved, just too short a time. Causes us to really know that it's the quality of the life and not the quantity that counts in the end.



Farewell Rose... Possibly the best Tree Walker Coonhound ever, lived with Paul Johnson to ripe old age of l4 - definitely best looking in l0-gallon hat.



R.I.P. Forrest
Forrest is the new name we gave Merlot - He quit eating and was losing weight. Our vet found a tumor on his appendix and he went over the Rainbow Bridge on September l7. He loved Lauren so much and she, him. We'll remember him as one of our miracles who was with us a short time and gave a lot.



Rest in Peace Jodi

Sadly, little Jodi had to be put down on May 8th. Apparently, the cancer she had battled through three surgeries and we thought was gone, took over her little body. So, her right home was always at B&B. We miss her and have wonderful memories of her quiet, gentle presence.



We rescued Pickles from the Huntington Beach Humane Society about 2 years ago. He was a special little boy with heart disease who required special medications & regular attention. He fit in so well at the sanctuary he became one of the house dogs & we all adored him. He spend many hours happily snoozing safe & secure here in the sanctuary with all his buddies.


This week little Pickles died very peacefully in his sleep. We are so happy that his little heart is now perfect... of course it was always perfect it just wasn't very healthy It was our privilege to know & care for Pickles.



Goodbye Penny
Zeppo was loved by everyone. He touched so many lives in his short 3 years (we had him 1 1/2 years). He will be missed by so many people, but will always be in my heart.


Sunny became ill last the week of November 17th, 2001 and had to go to Beagle Heaven.He was a special 9 year old boy who loved all his friends and human friends at Beagles and Buddies. He will surely be missed by many...




Justas arrived at B&B December 2001. She died so suddenly in her sleep. She was a gentle giant with a heart to share with all. We will remember you Justas!



Maggie was saved from certain death at Santa Monica shelter 2 years ago by one of her sponsors & namesake Maggie Turner. Her last two years were happy joyful & peaceful where she reigned as our sweet old queen of the laundry room She sure enjoyed her reign here at B&B and was an inspiration to many. Maggie died in her sleep after a very brief illness. Heaven's doggie laundry now has a brand new force to reckon with...

She now joins Pickles, Saralee, Pa Beagle
and so many other sweet souls that we all remember so well.

"If there are no dogs in Heaven, then when I die I want to go where they went." - Will Rogers