Hope all is well at the beagles and buddies home, thought we would give you an update for Obie, "Tank". We've made several new discoveries in the last few weeks- we've lost 5 lbs so far which are always the hardest, slow progress is still progress! As mentioned in our last letter- he is not collar shy! He goes daily on the treadmill (see photo), 10 min. in the morning, and another 30 at night. The dog-park and the school fields are also visited during the day. For one he hasn't shown any interest in cats, we'll see if that changes as he loses more weight and is actually able to run after them!

Tank loves kids! That is another big find (see photo), while he still doesn't care to be told what to do, he enjoys the younger kids that will just sit and pet him. He is not an active dog, he does not require a lot of attention so long as he's allowed to be nearby. Great companion dog!!! That's not to say he doesn't enjoy walks, that he does and he'll get all excited and run the whole way if you let him, but if you go to the dog park and sit, he'll sit nearby, he won't run around by himself- not self motivated!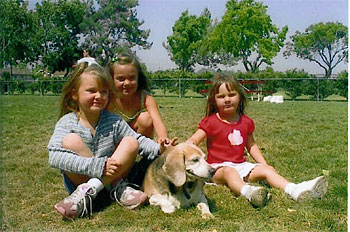 Next up in the update list would be Markie, renamed Allie. She has quickly taken to our routine and made herself more comfortable. She provides all the free entertainment when we're at the dog bark as she chases other dogs baying the whole way. Not barking, not howling, baying!!! It was especially funny when another owner hid a Frisbee up in the tree, she went nuts and you could really see what these dogs were bred for. The girls are a great match, just look at our sleeping photo- that would be after we went to the dog park during the day and Laguna Beach at night, to say the least it was a rough day. I think together we've hit just about every dog park from Upland to San Juan, to say the least.
She is your typical puppy starved for affection, there is never enough – unless we're going to the stable, then she's too busy watching horses. She's good about baths and everyone we meet says what a great dog she is and ask where we got her. She's a walking promotion!

Celeste & Ryan