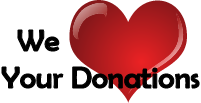 Click here to see our
available rescue dogs
(Updated Daily!)

You can meet the rescue dogs at our weekend adoption events, or by appointment at the sanctuary.

Beagles and Buddies Sanctuary
23430 Hwy 18
Apple Valley, CA 92307
626-444-9664
Map: http://goo.gl/maps/n5Jiq

Email: beagles@beaglesandbuddies.org
THE WILD WEINERS MARCH ON PASADENA!


Twenty dachshunds known throughout the land as the "Wild Weiners" recently marched in the Doo Dah Parade, an annual event in Pasadena. This year the theme was "Wild Hats", and the dogs sported hats indeed! From a Daniel Boone type hat to devil horns and everything imaginable in between. Our beloved weiners raised $100 toward rescuing less fortunate dachshunds for Beagles and Buddies. March on doxie advocates! Weiners with a purpose... and a fun time had by all. Below are some photos from the event.